This cake is sinful. If you know me, I like healthy for everyday life. But special occasions call for special treats! And this cake is a special treat! The recipe came from a friend who got it from a friend. It's a tried and true one! It's not difficult but there is a little work to it! Believe me, it's WORTH it. I made this for my mom's birthday recently and thought I should share! (full recipe below)





Mix flour and sugar together (I'm using sucanat whole cane sugar here, which is why it's brown)





Boil water, oil, butter and cocoa and pour into flour mixture and mix until combined.





Add eggs and beat well.






Add buttermilk and vanilla. Beat well.





Pour into a greased and floured 9x13 in pan and bake in a 350 preheated oven for 25 minutes.




Bring butter, cocoa and buttermilk to a full boil.






Remove from heat. Mix in vanilla. Add sifted powdered sugar slowly, mixing well. (Add chopped pecans here if wanted. I did half with and half without.)





Pour onto warm cake. Let cool before serving. YUM! (Yes, this is a real life shot from a messy kitchen!)

Here is the recipe:

Chocolate Cake with Fudge Icing

2 cups sr flour
2 cups sugar
1 cup water
1/2 cup oil
1 stick butter
4 TBS cocoa
2 eggs
1/2 cup buttermilk
1 tsp vanilla

Mix together flour and sugar. Put water, butter, oil and cocoa onto stove and bring to a boil. Add cocoa mixture to flour mixture and mix to combine. Add 2 eggs, beat well. Add buttermilk and vanilla mix well. Pour into a greased and floured 9x13 pan. Bake at 350 for 25 minutes.

Icing:

1 stick butter
4 TBS cocoa
6 TBS buttermilk
1 tsp vanilla
1 box powdered sugar, sifted
1 cup chopped nuts (optional)

Bring butter, cocoa and buttermilk to a full boil. Remove from heat and add vanilla. Stir in powdered sugar slowly, mixing well. Add nuts. Pour over warm cake. Let cool before serving.

This is seriously good. Enjoy!

I'm linking up with Comfy in the Kitchen: Feasting in Fellowship Friday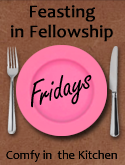 Raising Homemakers: Homemaking Link Up




and




and Don't Waste Your Homemaking: