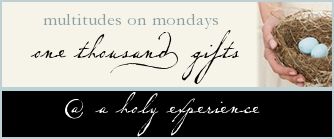 I was going to skip this week because I was so busy yesterday... but after the day I've had I think it will be good to go back over what I wrote down this past week.

# 78-88

~ Finding a birds nest in the birdhouse that Luke and my Dad build... with eggs!

~ Walking (exercise!) while the boys play! Good for the body and soul!

~ Excitement of new beginnings

~ Eli's face when he learned how to blow a pin wheel

~ Early bedtimes

~ Choclate ice cream covered faces...




~ Big brother comforting little brother during the storm





~ Sunny Sunday Morning and my new favorite breakfast




~ Foot Rubs

~ Listening to my boys sing "Hosanna"

~ Grace

"for all have sinned and fall short of the glory of God, and are justified by his grace as a gift, through the redemption that is in Christ Jesus." Romans 3:23-24