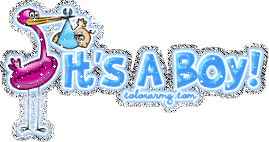 Well, we are having a sweet baby BOY! I am thrilled!!! I had no expectations whatsoever so it really was a surprise to me! Everything looked great on the sonogram. He was measuring perfectly, there was perfect amount of fluid, perfect organs, etc! What a blessing!
And it is without a doubt a boy. R and I both saw 'it' before we were even told! He was just wiggling around in there. I made sure to drink lots of OJ before the appointment so he would have enough sugar to get him moving! When she attempted to get a face shot, he kept putting his little hands up! Finally we did get to see a little outline of his face and we even saw his mouth moving! It is just such an amazing thing! He had his feet crossed and at the moment he is breech, but at only 19 wks, 3 days, he still has plenty of time to turn!
I am so excited that Luke will have a little brother! I just know that he will be a great big brother (after he gets use to the idea of having a new person in the house!).
We have been discussing names for the past few weeks and (of course) we came up with a boy name pretty easily. Maybe that should have been a sign! Even as of last night we still couldn't decide on a girl name. I am a planner when it comes to this kind of thing so I want a name for the baby the moment we know the gender! So, his name will be Elijah Chandler, Eli for short.
I just want to add that if God chose to only give us boys for however many more children we decide to have, I'd be thrilled. A baby is a miracle and a precious gift from God, no matter what the gender! :) I could not be happier!


Psalm 139:13-16 ~ For You formed my inward parts; You covered me in my mother's womb. I will praise You, for I am fearfully and wonderfully made; Marvelous are Your works, And that my soul knows very well. My frame was not hidden from You, When I was made in secret, And skillfully wrought in the lowest parts of the earth. Your eyes saw my substance, being yet unformed. And in Your book they all were written, The days fashioned for me, When as yet there were none of them.