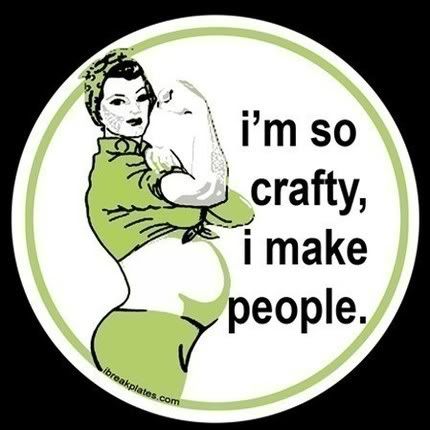 I'm 35 weeks today! 35 days to go! I started packing my hospital bag this week. It's crazy to me that it's already time to start thinking about these kinds of things. Here is my list so far:
Socks (the kind with the rubber stuff on the bottom.. I don't do slippers)
Hair things
Shampoo & Conditioner
Face/Body Wash
Deodorant
Toothpaste
Toothbrush holder
Chapstick
(2!! This was so important)
Lotion
Ginormous Pads
Robe
Coming home outfit (which consists of stretchy pants and a
tshirt
!!)
Undies (for coming home.. I don't think I wore my own much at all while I was there)
Cell Phone Charger
Snacks
Disposable Camera
Reading material
Luke's big brother box
Nursing Bra
List of names and phone numbers for the Hubs
Baby items: A few
onesies
, socks (for hands, the mittens never worked for us), nail clippers,
carseat
, baby book for hand/foot prints (I forgot this with Luke!!),
boppy
Last minute things to grab:
Make up/Moisturizer
Toothbrush
Digital Camera
Pillow
Am I forgetting anything?? I've made a billion lists out and then I lose them, so I make another one! It seems like a lot on that list! Do I really need it all? Notice there is not a thing on there for the Hubs. Maybe I should pack him some
PJ
pants just in case. I know he'll be coming home to shower and stuff though... But we got to the hospital at 9am with Luke and he wasn't born until 8:53PM that night.. and of course after we got settled in our room it was late.. and all the Hubs had was his jeans and
tshirt
... so maybe I should throw him some PJ's in there. Anyway, I'm rambling...
We also set up the
cosleeper
this week. It's so strange seeing it in our room and I'm having to get use to getting out of bed with it being right there. It's exciting imagining my sweet Eli sleeping in there.. (you are going to
SLEEP
in there right, Eli??) and remembering when Luke once slept in it. I also found a large bin of Luke's clothes under my bed! Guess what sizes they were? Newborn-3
mths
!!! I thought I had gotten rid of them all (or lost them when we moved)! I'm glad to have them now though. It will be fun to put Eli in some of Luke's tiny little things!
Speaking of Luke, he ran another fever last night after being fever-free all day yesterday. I called the nurse again and she said this was typical of the 'fever virus' that is going around. He's still eating and playing like normal though. I was told that it may last 2 or 3 more nights but should be gone by Monday. We're going stir crazy here. I have a child that would live outside if he could! The Hubs took him to the gas station to get gas (and mommy a York Peppermint Patty) just to get out of the house for 10 minutes this morning!
Well, I was just told that Luke stinks.. so duty calls.. :)