I mentioned on my menu plan Monday that I was going to be trying a new recipe that I got from my sister! I made it Wednesday night and it was soo good! Here are the measurements I used (it's really a non recipe and more of a method!).



Chicken Pesto Pizza

2 chicken breast, cut into strips
4 whole wheat tortillas (I used 8 inch)
1/2 onion, sliced
8 TBS pesto (a little more than 1/4 cup)
1/4 cup sun dried tomatoes, sliced
1 cup mozzarella, shredded

Preheat oven to 400. Cook chicken in butter (or olive oil) with a little salt and pepper and cook through. Remove chicken and saute onions in pan with chicken drippings for about 5 minutes. While onions are cooking, place tortillas onto cookie sheet (can brush pan with a little olive oil, I didn't) and spread a thin layer, about 2 TBS, of pesto onto each tortilla leaving about an inch around the outside of the tortilla. When onions are cooked, mix onions, tomatoes, and chicken (I shredded mine further) together and top evenly on each tortilla. Top each pizza with cheese. Bake at 400 for 10 minutes or until edges are crisp and turning brown.

Print Grocery List!

These were so tasty!!

My sister also used asparagus and broccoli on her pizza but I (as you can see) didn't. I actually had broccoli but was in a hurry and didn't want to chop and wash the broccoli (so we're having steamed broccoli tonight). I would just use small florets and chop the asparagus and add to the chicken mixture. You really could add any kind of veggies. I think some spinach would be great!

I'm linking up with Feasting in Fellowship Friday at Comfy in the Kitchen!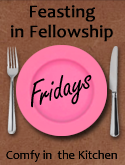 and