This was super good and easy! Try it!

Baked Penne with Spinach and Sausage

10 oz whole wheat penne (or ziti noodles), cooked and drained
1 lb sausage (I used sweet Italian turkey sausage)
1/2 cup onion, chopped
2 cloves garlic, chopped
1 jar of pasta sauce (I used onion/garlic flavor)
3/4-1 cup of V8 Juice
4 cups (or handfuls) of spinach
1 cup mozzarella, shredded
1 cup Parmesan cheese, shredded

Preheat oven to 350. Crumble and cook sausage and onions together, until sausage is no longer pink. Add garlic and cook about a minute. (Drain, if needed. I actually had to add about a TBS of butter to the pan because of the turkey sausage) Add pasta sauce and V8 juice (I added about 1/2 cup at first). Simmer about 10 minutes, uncovered, for sauce to thicken a bit. When sauce is almost ready, combine noodles spinach, mozzarella and about 1/4 cup of Parmesan cheese. Mix pasta mixture in with the sausage mixture. (This is where I added about 1/4 cup more of V8 juice to make it a little more saucy and it was perfect! Pour into greased 9x13 pan, sprinkle with remaining Parmesan cheese. Bake for about 30 minutes until bubbly and cheese is melted!

So good!

Coming soon: why I'm avoiding canned tomato products! Come on grocery stores!!! Get with it and start providing tomatoes in glass jars and boxes!!!

I'm linking up with Feasting in Fellowship Friday at Comfy in the Kitchen!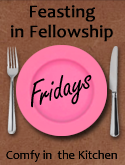 and