These are SO good! I use a method I got from Musings of a Housewife's Chicken Enchilada recipe, so of course you can use chicken in these as well! I have! This recipe turns out great and uses NO 'cream of' soups. We've gotten rid of those in our diets and you wouldn't believe how hard it is to find an enchilada casserole recipe without it! Try it!





Add taco seasoning and salsa to browned and drained ground beef. Simmer for 5 minutes.





Dip one tortilla into heavy cream. Next fill with beef mixture, roll and place in buttered dish. Having an assembly line makes things easier!




Top with cheese (here I used Colby, I also like Colby Jack and just regular Cheddar) and pour remaining cream over the enchiladas. (The recipe is for a larger 9x13 pan but in the pictures I was only making half the recipe)




Bake at 350 for about 30 minutes until cheese starts to brown. Yum!

Here is the recipe:

Beef Enchiladas

1 lb ground beef, browned & drained
1 cup salsa
2 TBS taco seasoning mix
8 whole wheat tortillas
1 cup heavy cream
2 cups shredded cheese

Preheat oven to 350. Butter 13x9 in baking dish. Once beef is browned and drained mix in 2 TBS (more or less, I like lots and it's okay because it's homemade, no MSG!) of taco seasoning mix and salsa. Simmer on low/med low for about 5 min, stirring often. Dip a tortilla into the heavy cream, fill with beef mixture (keep it small so they aren't stuffed and spilling out), roll and place in dish seam side down. Repeat with the remaining tortillas. Top with shredded cheese, pour remining cream over the top of the enchiladas and bake for 30 minutes or until cheese begins to brown. Sometimes I have extra beef left over, it all just depends on how much meat I brown, how full I stuff these, ect. The leftover meat is great in a quesadilla or on nachos the next day! Serve with a salad, beans, rice, sour cream, ect!

Linking up with {TITUS 2}SDAYS at




Old Fashioned Recipe Exchange at Little House on the Prairie Living

Raising Homemakers Homemaking Link Up:




and Comfy in the Kitchen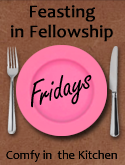 and