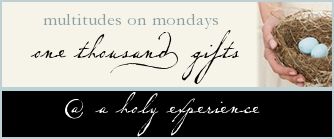 I'm a day late but we were busy yesterday! The Hubs took off work and we had a fun time at the McWane Center! The past week was a difficult week for me. I have a lot of things going on, but I'm still counting. He is faithful. He is trustworthy.

# 21-37

~ Sweet cantaloupe in March
~ Husband reading the Word to our boys
~ Makeshift tents in the kitchen
~ A dandelion.. the first in our yard
~ Thunderstorms that aren't dangerous
~ Little boys waking up laughing
~ Eli in cowboy boots
~ Group of silvered hair ladies seeing a movie together
~ The hallway where little feet run up and down
~ The bed where Husband and I sleep
~ Messy rooms where my boys have play
~ A day with my family
~ My boys running
~ Laughter in our home
~ Eli's grin
~ Luke's big brown eyes
~ My husband, holding my hand

Here is the Hubs reading to the family... notice Eli's glasses. He was "reading" along too! So thankful...